Kim Kardashian hit back at Bette Midler, Chloë Grace Moretz, and Piers Morgan on Monday night, after the trio dinged the reality star for posting a naked selfie.
"Hey @BetteMidler I know it's past your bedtime but if you're still up and reading this send nudes," Kardashian wrote, adding the hashtag #justkidding. Kardashian also called out Midler for previously sending her a gift and "trying to be a fake friend."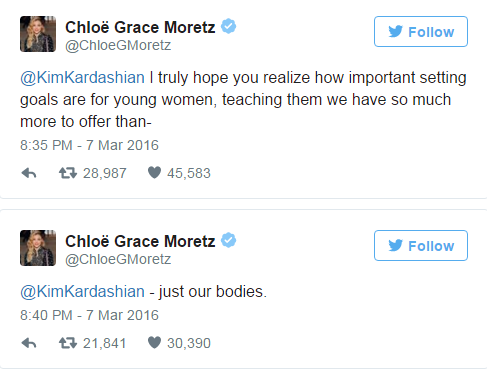 Later in the day, Moretz also commented on the photo, tagging Kardashian directly in a pair of tweets. "I truly hope you realize how important setting goals are for young women, teaching them we have so much more to offer than just our bodies," she wrote. Moretz, who also retweeted Midler's joke, added, "There's a huge difference in respecting the platform that you're given as a celebrity and 'slut shaming,' something I never have done and would never do."
Later in the day, Kim replied to Chloe:

What do you think about it?