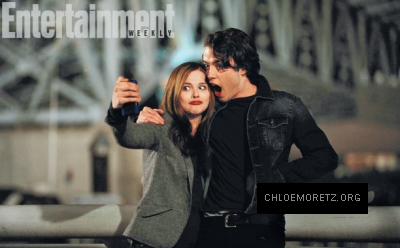 Translating a beloved book onto the big screen is a daunting proposition. But in the case of Gayle Forman's teen sensation If I Stay, 17-year-old Chloë Grace Moretz isn't nervous.

"Being a fan of the book myself, I kind of understood what I wanted to see from the character. And in listening to Gayle, who originated the character, I knew what she wanted to see," Moretz told EW. "We all tried to stay incredibly faithful to the story. That's why we're making it."

An MGM/Warner Bros./New Line production directed by R.J. Cutler, If I Stay finds Mia, a 17-year-old cellist, in a coma following a devastating car accident that's killed the rest of her family. Forman's novel takes the unconscious Mia on a journey through her memories and experiences as she tries to decide whether to wake up — or to die. "I got very close to Mia and who she was. I was really in her head so there wasn't really a question I couldn't answer," says Moretz.

Fans of the book know that Mia's boyfriend Adam plays an integral role in the story: He's one of Mia's reasons to stay. Cutler cast relative unknown Jamie Blackley in the role, and Moretz assures us that he's just fantastic. "He's the perfect Adam. We took a really long time casting him," she says. "When Jamie walked into the room I looked at R.J., and R.J. looked at me, and we did the audition and he left. And I went, 'That's Adam. That's who he is.' There was not a question. Not even a worry. That's Adam. And I was like, 'If you don't hire him, that is so dumb.'"

Forman's novel might occupy a certain part of the bookstore, but Moretz doesn't love the "young adult" designation. She thinks it diminishes the book's value. "What's interesting about Gayle's novel is that it's not really that YA. It deals with issues that are much bigger…it's much darker than I think most YA is," says Moretz. "I want people to walk in and feel like they actually felt something, and learned something, and realized something different about life that's more than just, 'Oh, I saw this love triangle and it's super sad because she chose the guy I didn't like. And then the movie was over.' And you're like, 'Okay, that's pathetic.' You want to watch something that actually means something and makes you feel and makes you want to be involved. That's what I wanted to make and that's what I strive to make."

If I Stay hits theaters Aug. 22.