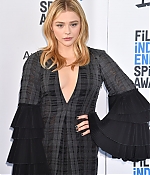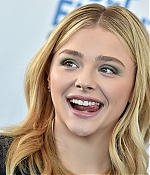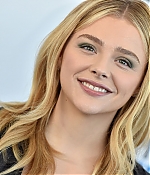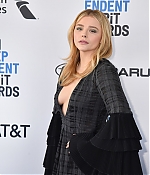 Gallery Links:
Public Appearances > Events From 2019 > February 23 – 34th Film Independent Spirit Awards
Studio Photoshoots > 2019 > Indie Spirit Awards
Chloe Grace Moretz's character in "The Miseducation of Cameron Post" is sent to a conversion therapy camp, and the actress says she's never been more "engrained" in a character because she actually lived at the summer camp while filming the movie.
"We were filming in this summer camp that we were actually all living in and we shot the movie chronologically," she told TheWrap. "So there was a lot of art in what we were filming melding with our personal lives: The relationships that were being built on stage between Sasha Lane and I and Forrest Goodluck — those were actually our budding friendships and how we progressed as friends because it was shot chronologically in 23 days. I've never had that amount of being engrained with a character. I've always been able to walk away and go to a different home, but to literally finish a scene and then walk down a corridor and go to your room — that's a different world to live in. It was method without choosing to go method."
Moretz stars as Cameron Post, a teenager who gets caught with another girl in the backseat of a car on prom night. Her parents then send her to a conversion therapy camp, where Cameron is forced to analyze her sexuality. To prepare for the role, Moretz spoke to survivors of these programs to hear their story.
"It is legal to be practiced in every state in America, but in 14 states, it's illegal for minors to be put through it, so that is a harrowing number," she explained. "700,000 people in America have gone through conversion therapy, and 57,000 teenagers in the next five years will be subjected to it. So those are statistics that are not from 1993 when the movie is set. This is 2018, and we're under an administration that is actively attacking the LGBT community, and with a vice president who is an avid supporter of conversion therapy."
Moretz said the Desiree Akhavan film started production in the Obama era but that halfway through making the film, Donald Trump was elected president.
"This movie went from being very important to us and our community to being the highest form of activism that we can do and pushing this message out and being able to give this to young people and especially young gay people, to be represented in this way, in this current state of America, this movie in a lot of ways is a beacon of light and a beacon of hope," said the 21-year-old actress.
"The Miseducation of Cameron Post" first premiered at the Sundance Film Festival earlier this year and also stars John Gallagher Jr., Quinn Shephard and Kerry Butler.
Source: thewrap.com
OK, so we all recognize the opening lines of Charlie's Angels — or at least those of the savvy 2000 cinematic adaptation that recast the crime-fighting trio of hot babes from the 1970s TV series into a power brand with considerably more feminist appeal, especially for a younger generation more familiar with Alex, Dylan, and Natalie from the movies than with Jill, Kelly, and Sabrina from television. "They had a real sisterhood between them, and at the same time they were kicking ass," says Laura Harrier, explaining the Angels' enduring allure as well as the inspiration for this InStyle shoot, which brings the actress together with her friends in real life, Chloë Grace Moretz and Sophie Turner. "And the Destiny's Child song from the first movie was epic," adds Harrier.
"The relationship between those three girls was the strongest thing about them," says Turner, who first met Harrier at a Vuitton fashion show and Moretz at a Met Gala after-party. As ambassadors for Vuitton, the three women have formed bonds of their own, with an easygoing camaraderie that has not gone unnoticed by the house's artistic director, Nicolas Ghesquière. Reflecting on the zeitgeist of today's newly awakened Hollywood, the designer says they represent exactly the types of fierce, outspoken individuals who inspire him. (He appears here as their elusive Charlie.)
"I'm lucky because I get to watch two sides of them — the side where they portray different characters, like a romantic heroine and then a serial killer, and at the same time I get to know them in real life," Ghesquière says. "I love the fact that these young women are not afraid to cross boundaries and express themselves in many ways."
For such a prominent designer who has long been revered as an innovator — at Balenciaga for 15 years and now at Vuitton for five — Ghesquière has always allowed an element of popular culture to enliven his work, sometimes making abstract references to his love of music and sports and other times nodding more obviously to science fiction.
And while he is not primarily a designer for the red carpet, he is very much attuned to that world and fascinated by its characters. He asked to meet Harrier just before she appeared in Spider-Man: Homecoming and came to know Turner, of course, through her role as the not-to-be-underestimated Sansa Stark on Game of Thrones. Ghesquière has known of Moretz the longest, ever since her performance as a potty-mouthed preteen vigilante in Kick-Ass. Speaking on the phone a few days before the Venice première of Luca Guadagnino's Suspiria, one of three films she has out this fall, Moretz described how Ghesquière custom-made a poetic, floor-length floral silk gown for her to create a specific impression.
"He wanted to see me, in his words, in a more romantic light that could lend itself to the landscape of Venice, and to offset the movie, which is this really dark, twisted horror film," she says. "It feels like a special little moment."
Full interview: instyle.com
Having crossed the threshold from child star to lead actor, Chloë Grace Moretz is exercising her celebrity to inspire the next generation to shape cultural change. But even she needs a weekend off the grid now and then.
Chloë Grace Moretz sits with her legs folded like a pretzel in the master bedroom of the Gene Autry Residence at Parker Palm Springs. Sipping an iced coffee, black, she pages through the day's edition of The New York Times as the glam team goes to work.
"I can't start my day without it," the Georgia native says. Her political interests run deep: Moretz stumped for Hillary Clinton and in 2016 became the youngest speaker ever to address the Democratic National Convention.
At 21, she has 27 awards, 41 additional nominations, and 50 motion pictures under her belt, including three in post-production at press time. Her latest to hit theaters, The Miseducation of Cameron Post (a Sundance grand jury prizewinner that saw wide release in August), takes a raw look at the practice of gay conversion therapy.
Set in the 1990s, the adaptation of Emily Danforth's eponymous 2012 novel chronicles the experience of Moretz's character at a treatment center that aims to pray the gay away. "This is a prolific modern issue," Moretz says, noting its use is not specific to any one religion, socioeconomic class, or race. "It is only illegal for minors in 14 states; 77,000 kids in the next five years will be subjected to conversion therapy."
Miseducation, directed by Desiree Akhavan, was a passion piece for Moretz. "Having LGBT people in my family, being an advocate has always been a very large part of my identity," she says. "This movie is by queer people — for the community by the community — and that's really special. I've never felt more proud of a project."
Moretz appears in Luca Guadagnino's Venice Film Festival–nominated Suspiria, which opens in U.S. theaters next month. She also stars in the forthcoming animation Red Shoes & the 7 Dwarfs, Neil Jordan's thriller The Widow, and a new animated version of The Addams Family (opening October 2019) alongside the voices of Charlize Theron, Oscar Isaac, Nick Kroll, and Allison Janney.
After her Palm Springs Life cover shoot (September 2018), Moretz took time to discuss her films, her mentors, and… her potential run for Congress.
What's your ideal Palm Springs weekend?
For years, we've been going out to Palm Springs as a family. We usually go out there when it's really, really hot. It's 110 in the daytime and you just sit by the pool and sweat all day.
The snowbirds are going to think you're nuts. Why come when it's hot?
It's just kind of fun. You get the resorts to yourself — at a place like the Parker, which is usually kind of crazy, [you're there] without everyone in the way.
Full Interview: palmspringslife.com
"Out of any movie I've made, this is the one people need to talk about – they need to see it," says Chloë Grace Moretz. "It will change you."
That might sound like your standard PR-friendly sound bite that gets taught in lesson one at the Hollywood School of Media Training, but in this case we believe it to be infinitely more genuine than that. Why? Because the film in question is The Miseducation of Cameron Post – an adaptation of Emily M. Danforth's 2012 coming-of-age novel of the same name.
Chloë Grace Moretz – the young actress you've seen in Kick-Ass and its sequel, the Carrie remake, and Neighbors 2: Sorority Rising, among other big budget flicks – takes on the title role here; a queer teen caught having sex with her girlfriend at her school prom by the boyfriend she attended it with, only to then be carted off to God's Promise, a conversion therapy camp in Montana. When it first premiered at the Sundance Film Festival earlier this year, it was met with critical praise. So much so that it walked off with the Grand Jury Prize for US Drama – widely regarded as the festival's highest honour.
"I had basically taken a little bit of a break from acting for a second to figure out where I wanted to be in my career, the content I wanted to put out, and what was so important to me," Chloë tells us when we ask at what point when reading the script did she know that she needed to be a part of this project. "The first movie that really ticked all the boxes for me and lit a fire under me was Cameron Post. It was really that that made me want to jump into this project and be a part of it – and it was for a multitude of reasons." The main one, she says, was because she was completely unaware of how much an issue conversion therapy was – and continues to be – in America.
The statistics are heartbreaking: there are currently 700,000 people in America affected by conversion therapy, while it's estimated a further 77,000 young people will be subjected to the unethical practice in the next five years. There is absolutely no reliable evidence that this pseudoscientific method is effective. In fact, pretty much all respectable scientific and medical experts consider attempting to change someone's sexuality from bisexual or homosexual to heterosexual through psychological or spiritual means to be seriously harmful. Yet conversion therapy has so far only been banned in 14 states in the US, and that is just when it comes to minors. In the UK, the government is only just looking into banning the practice after years of campaigning by LGBTQ activists.
"It's an issue that never went away," Chloë says. "The movie is set in 1993, so in a way you could look at it and think it's different now, but actually it's not. If anything, it's louder, it's more talked about, and it's more easily accessible. There are websites now that will help you find any therapist in a 10-mile radius of your home that you can take your kid to tomorrow. So it's become very readily available and that really shocked me."
What is even more shocking, Chloë adds, is just how far conversion therapy has its grip. "It's in every religion, it's in every socio-economic space, it's in every race, it's an incredibly widespread issue." And this is where the power of art comes in. When Chloë says that this is the one movie of hers that she needs people to see, it's because it could help mobilise real social change when it comes to the conversation around conversion therapy. "Hopefully, from people becoming educated it'll help them to become advocates to overturn it and make it illegal in their country and their city."
When Chloë says that, it's not even directed at just the LGBTQ community, but people outside of the rainbow who could be completely unaware that these very real issues still persist in society. And The Miseducation of Cameron Post's secret weapon? A great big emotional punch that would be difficult for anyone to resist connecting with.
Full interview: gaytimes.co.uk