Category: Photos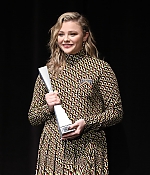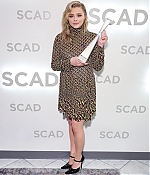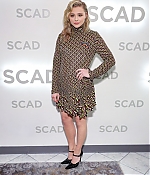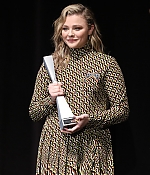 Gallery Links:
Public Appearances > Events from 2018 > November 02 – 21st SCAD Savannah Film Festival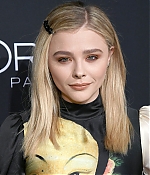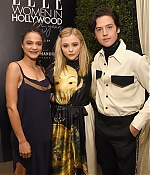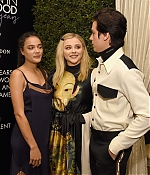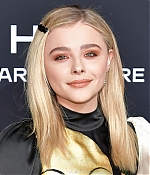 Gallery Links:
Public Appearances > Events from 2018 > October 15 – ELLE's 25th Annual Women In Hollywood Celebration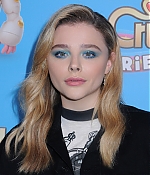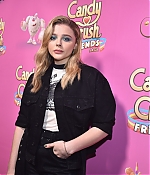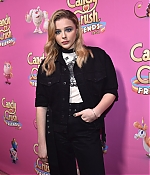 Gallery Links:
Public Appearances > Events from 2018 > October 11 – Candy Crush Friends Saga Global Launch Event
OK, so we all recognize the opening lines of Charlie's Angels — or at least those of the savvy 2000 cinematic adaptation that recast the crime-fighting trio of hot babes from the 1970s TV series into a power brand with considerably more feminist appeal, especially for a younger generation more familiar with Alex, Dylan, and Natalie from the movies than with Jill, Kelly, and Sabrina from television. "They had a real sisterhood between them, and at the same time they were kicking ass," says Laura Harrier, explaining the Angels' enduring allure as well as the inspiration for this InStyle shoot, which brings the actress together with her friends in real life, Chloë Grace Moretz and Sophie Turner. "And the Destiny's Child song from the first movie was epic," adds Harrier.
"The relationship between those three girls was the strongest thing about them," says Turner, who first met Harrier at a Vuitton fashion show and Moretz at a Met Gala after-party. As ambassadors for Vuitton, the three women have formed bonds of their own, with an easygoing camaraderie that has not gone unnoticed by the house's artistic director, Nicolas Ghesquière. Reflecting on the zeitgeist of today's newly awakened Hollywood, the designer says they represent exactly the types of fierce, outspoken individuals who inspire him. (He appears here as their elusive Charlie.)
"I'm lucky because I get to watch two sides of them — the side where they portray different characters, like a romantic heroine and then a serial killer, and at the same time I get to know them in real life," Ghesquière says. "I love the fact that these young women are not afraid to cross boundaries and express themselves in many ways."
For such a prominent designer who has long been revered as an innovator — at Balenciaga for 15 years and now at Vuitton for five — Ghesquière has always allowed an element of popular culture to enliven his work, sometimes making abstract references to his love of music and sports and other times nodding more obviously to science fiction.
And while he is not primarily a designer for the red carpet, he is very much attuned to that world and fascinated by its characters. He asked to meet Harrier just before she appeared in Spider-Man: Homecoming and came to know Turner, of course, through her role as the not-to-be-underestimated Sansa Stark on Game of Thrones. Ghesquière has known of Moretz the longest, ever since her performance as a potty-mouthed preteen vigilante in Kick-Ass. Speaking on the phone a few days before the Venice première of Luca Guadagnino's Suspiria, one of three films she has out this fall, Moretz described how Ghesquière custom-made a poetic, floor-length floral silk gown for her to create a specific impression.
"He wanted to see me, in his words, in a more romantic light that could lend itself to the landscape of Venice, and to offset the movie, which is this really dark, twisted horror film," she says. "It feels like a special little moment."
Full interview: instyle.com
Having crossed the threshold from child star to lead actor, Chloë Grace Moretz is exercising her celebrity to inspire the next generation to shape cultural change. But even she needs a weekend off the grid now and then.
Chloë Grace Moretz sits with her legs folded like a pretzel in the master bedroom of the Gene Autry Residence at Parker Palm Springs. Sipping an iced coffee, black, she pages through the day's edition of The New York Times as the glam team goes to work.
"I can't start my day without it," the Georgia native says. Her political interests run deep: Moretz stumped for Hillary Clinton and in 2016 became the youngest speaker ever to address the Democratic National Convention.
At 21, she has 27 awards, 41 additional nominations, and 50 motion pictures under her belt, including three in post-production at press time. Her latest to hit theaters, The Miseducation of Cameron Post (a Sundance grand jury prizewinner that saw wide release in August), takes a raw look at the practice of gay conversion therapy.
Set in the 1990s, the adaptation of Emily Danforth's eponymous 2012 novel chronicles the experience of Moretz's character at a treatment center that aims to pray the gay away. "This is a prolific modern issue," Moretz says, noting its use is not specific to any one religion, socioeconomic class, or race. "It is only illegal for minors in 14 states; 77,000 kids in the next five years will be subjected to conversion therapy."
Miseducation, directed by Desiree Akhavan, was a passion piece for Moretz. "Having LGBT people in my family, being an advocate has always been a very large part of my identity," she says. "This movie is by queer people — for the community by the community — and that's really special. I've never felt more proud of a project."
Moretz appears in Luca Guadagnino's Venice Film Festival–nominated Suspiria, which opens in U.S. theaters next month. She also stars in the forthcoming animation Red Shoes & the 7 Dwarfs, Neil Jordan's thriller The Widow, and a new animated version of The Addams Family (opening October 2019) alongside the voices of Charlize Theron, Oscar Isaac, Nick Kroll, and Allison Janney.
After her Palm Springs Life cover shoot (September 2018), Moretz took time to discuss her films, her mentors, and… her potential run for Congress.
What's your ideal Palm Springs weekend?
For years, we've been going out to Palm Springs as a family. We usually go out there when it's really, really hot. It's 110 in the daytime and you just sit by the pool and sweat all day.
The snowbirds are going to think you're nuts. Why come when it's hot?
It's just kind of fun. You get the resorts to yourself — at a place like the Parker, which is usually kind of crazy, [you're there] without everyone in the way.
Full Interview: palmspringslife.com