Sofia Coppola left the live-action project earlier this year following creative differences with the studio
Chloe Grace Moretz is set to star in "The Little Mermaid," the live-action movie from Universal and Working Title that Sofia Coppola was previously attached to direct, TheWrap has learned.
Richard Curtis ("Love, Actually") is nearing a deal to write the script for the film, which is based on the beloved tale from Hans Christian Andersen.
The original story follows a mermaid who saves a man from drowning and falls in love with him.
Working Title's Tim Bevan and Eric Fellner will produce, while Liza Chasin and Amelia Granger will executive produce. Universal executives Erik Baiers and Chloe Yellin will oversee the project for the studio.
Coppola left "The Little Mermaid" earlier this year due to creative differences. Universal wanted to cast an established star like Moretz to justify the budget, while Coppola was open to making a discovery and more interested in casting a relative unknown. At the time, insiders suggested that Maya Thurman-Hawke was the favorite for the coveted role.
Moretz is becoming a favorite on the Universal lot, as she's also filming the studio's sequel "Neighbors 2: Sorority Rising." She next stars in Sony's "The Fifth Wave," and has the indies "November Criminals" and "Brain on Fire" in the can.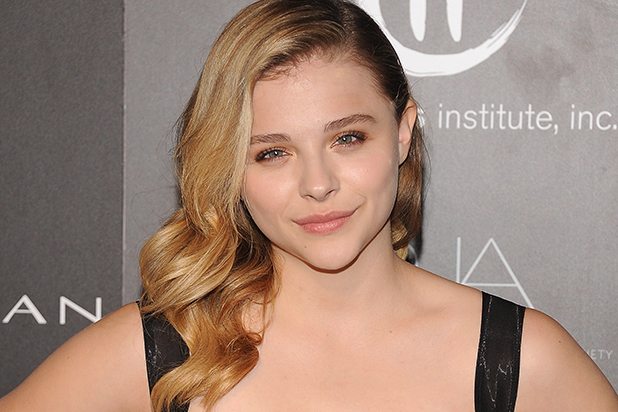 Anne Hathaway, Keanu Reeves, Daniel Radcliffe, Chloe Grace Moretz and Jeff Goldblum will star in Shane Carruth's indie drama "The Modern Ocean" alongside Tom Holland, Asa Butterfield and "Beasts of No Nation" breakout Abraham Attah, it was announced Tuesday.
Carruth will also star in the movie, which FilmNation Entertainment will begin shopping to international buyers at the upcoming American Film Market. The script is said to be 200 pages long and feature pictures and diagrams.
"The Modern Ocean" chronicles a competition for valuable shipping routes and the search for a hidden cache of priceless material. The film is said to explore the powerful need for vengeance in a secretive world filled with mysterious technologies and bitter rivalries.
"The Modern Ocean" is being produced by Blackbird's Lawrence Inglee, Carruth's erbp Film and Tadmor's Eyal Rimmon.
Carruth previously directed the esoteric indies "Primer" and "Upstream Color," which earned him admiration and respect from many in Hollywood despite the fact that neither film lit up the box office.
I found new photos from the photoshoot by Eric Silverberg (2014) and photos from the set of Neighbors 2 (October 28) :]